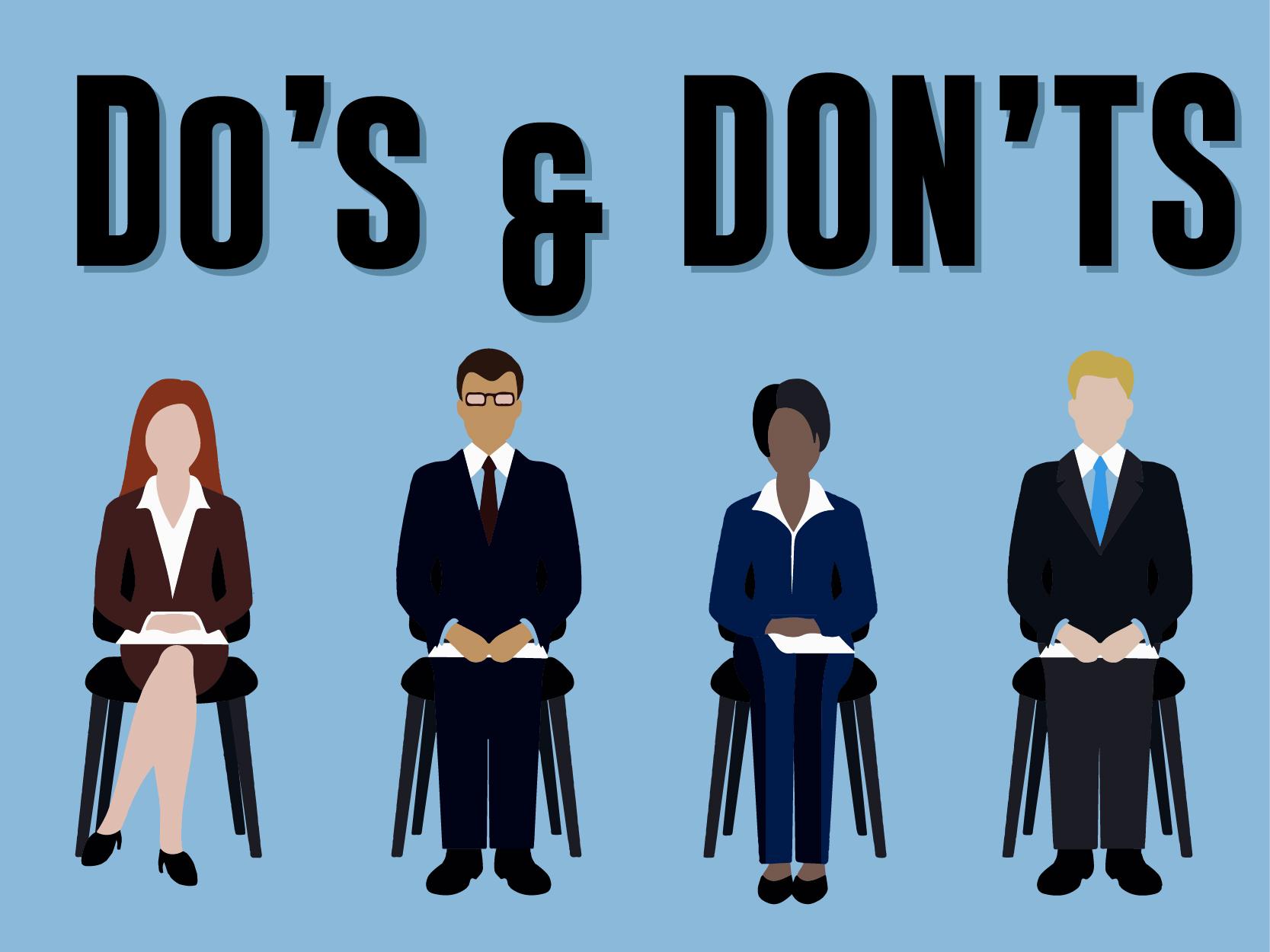 RM Talk
- August 3rd, 2020 - 5:55 pm
Interview Do's & Dont's
Congratulations, you have an interview coming up! Let me guess, you're suddenly nervous that you'll say the wrong thing, wear the wrong thing, or make a bad impression. We get it, we've been there! Interviewing, whether it be your first or you seventeenth, can be a scary process! We'll help you prepare with a few Do's and Don'ts that will have you leaving for your interview saying "I've got this!"
DON'T be late. Don't even arrive 5 minutes early.
DO allow yourself plenty of time to get to the location of your interview. Arrive with about 10-15 minutes to spare to park, find your way to the office/building, use the restroom, freshen up, and mentally prepare for your interview.

DON'T bring a resume longer than two pages.
DO provide information that helps the interviewer know how you made an impact or grew in your prior roles. Make sure you update your resume as needed and review it before the interview to make sure it covers all relevant information for this particular interview.

DON'T go into the interview with a "tell me about your company" approach. They want to know about you.
DO your research beforehand, not only so you can see if you may be a good fit there, but also to be able to let the interview be about you and what you will bring to the team.

DON'T overdress or underdress. I know what you're thinking, "then what can I wear?!" By researching the company, you should be able to get a feel for the company culture. Are you interviewing at a company where they wear suits each day or are jeans and a t-shirt acceptable?
DO wear clothing that you not only feel comfortable and look great in, but also follow the anticipated dress code.

DON'T slouch in your chair, fidget with your pen, bounce your knee, look at the ground, cross your arms, or play with your hair.
DO project confidence in the way you hold yourself. Sit up straight with good posture, keep your hands in your lap or on the table/desk, try to control any fidgeting by focusing on the interviewer and keeping good eye contact.

DON'T panic if you don't know how to answer the question or you feel nervous with your last response.
DO remain calm, collective, and confident. Give them your best answer, be your best professional self, and keep a smile on your face while listening. If you need to gather your thoughts, ask to think about the question for a minute instead rushing to respond right away.

DON'T share too much, or go into detail about irrelevant topics/stories.
DO prepare for common interview questions by outlining your ideas and responses. Avoid memorizing answers to specific questions, as this can cause unnecessary stress and can make answering a question you haven't prepared for quite intimidating. This kind of preparation can help bring confidence to your responses.

DON'T just let the interviewer ask all of the questions.
DO come prepared with topics you'd like to discuss based on the research you did on the company. Asking questions not only shows your interest in the company, but allows you to learn more about your position and if it suits you.

Finally, DON'T be afraid to talk about yourself.
DO take this opportunity to put your best foot forward and, in a way, brag about yourself, your skills, your work ethic, whatever it is that you think makes you a great candidate for that position.

Good luck, and remember to SMILE!
---
Have something you'd like to see?