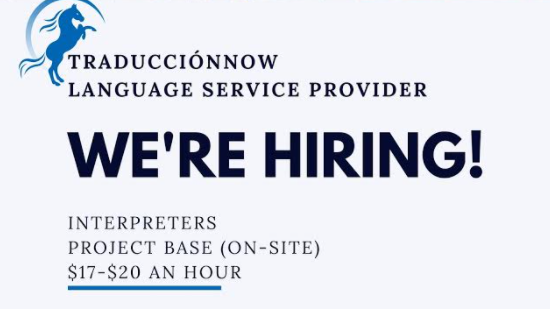 RM Talk
- April 12th, 2021 - 5:31 pm
Help Wanted: Hiring Spanish to English On-site Interpreters
TraducciónNow!
Pay: $17-$20 an hour

Training will be provided
Email us your resume:
translation@traduccionnow.com

TraducciónNow provides high-quality translation and on-site interpretation services to private organizations, government organizations, non-profit organizations, and faith-based organizations. With more than 10 years of experience, we have translated thousands of legal, financial, medical, and technical documents.
Our staff members are native speakers with a proven track record of success to achieve the highest quality human translation in various languages.
TraducciónNow is a local woman and minority-owned company that provides high-quality, professional translation, and interpretation services at a reasonable rate.

Our Location
2549 Waukegan #450
Deerfield, IL 60015

Contact Information
(224) 575-3935

Learn More:
https://www.rmtalk.com/directory/details/traduccionnow-language-service-provider
---
Have something you'd like to see?